358 welded steel mesh is treated with marine grade heavy plastic powder coating after galvanised. 8 to 10 feet height is common size for black powder coated steel 358 mesh, fitted with 11 feet length posts black powder coated and other fittings. Galvanized and green powder coating also available.
The type of mesh fence is anti-cut, anti-climb, water resistance powder coated with marine grade Plastic. Popular product is ½" x 3" 8 gauge galvanized, and ½" x 3" 10.5 gauge GAW plus heavy duty PVC coating. Wire: 4 mm, galvanized + powder coating. General installation height is 1.5 m.
358 Mesh Panels – Hot Dipped Galvanised & Powder Coated Delivered to South Africa, East London
2.4mts high x 2550mm long
Including all posts/fixings/etc
Finish powdercoated RAL 6005 green

358 Galvanized Steel Mesh of Epoxy or Polymer Coating
Inner aperture:72.2×8.7mm
Wire diameter:4mmm
Width: to 2.9m
Tensile of the wire: 600-750N/m2
Welded strength: 60%-80%
Height: up to 4.8m
Fence post: 80 x 60mm, 80 x 80mm or 120 x 60mm.
358 security mesh is supplied in a variety of sheet sizes and wire gauges.
358 Mesh provides the highest degree of physical perimeter protection, ideal for sensitive areas requiring the maximum degree of security. 358 mesh is popularly used for prisons and nuclear establishments; to computer center, research laboratories and warehouses; to schools and retail areas.
Features:
High rigidity
358 Secure-mesh panel is made of low carbon wire and its diameters is 4-6mm with tightening folds according to the height of panel.
High protection against corrosion
358 Security mesh is a welded mesh panel made of galvanized & powder-coated steel wires. The Long Life Technology powder-coating process guarantees a long life span and a reliable protection against corrosion.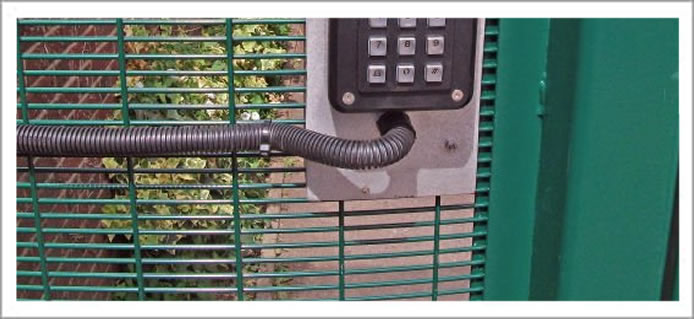 Surface Treatment: galvanized wire and polyester powder coated or hot dipped galvanized after welded. The protection of galvanized wire and powder coating ensures best protection against rust and corrosion.
Application:
High Security 358 Welded Mesh Fence can be used as anti-climb fence, security fencing for prison, parks, schools, playgrounds and sports field, public buildings, factories and warehouses, airports, etc.