Steel Bar Grating Advantages: 1.Easy installation , 2.Strong structure , 3.Aesthetic appearance , 4.Good water permeability.

Steel Grating Application:
(1) Galvanized steel grating from the flat width of 65mm-200mm thickness 5mm-20mm, such as welding formed galvanized steel grating for the post-heavy-duty galvanized steel grating suitable for large yard, docks, coal road bridges, etc., can carry large trucks pass.

(2) Galvanized steel grating (Bearing Bar Spacing 40mm) spacing of 40mm steel hot dip galvanized steel grating is the most economical and lightweight varieties in the span of a smaller case, is the ideal choice.

(3) Galvanized steel grating (Bearing Bar Spacing 60mm) flat steel bar spacing of 60mm to 50mm hot dip galvanized steel grating used in mining mineral mining industry to solve the problem of splash on the plate, often designated for mining processing plant

4) Galvanized steel grating (Bearing Bar Spacing 30mm) spacing of 30mm steel hot dip galvanized steel grating for the industry's most versatile breed in the common hot dip galvanized steel grating series, the impact on the surface the contact force of the strongest.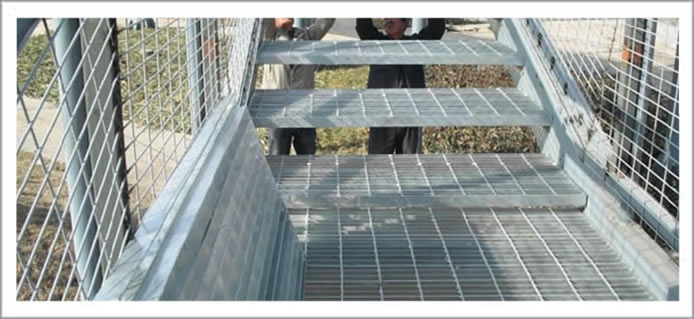 Pressure Locked Metal Bar Grating is a system constructed of interlocking slotted bars bonded together using tremendous hydraulic pressue. The bars are positioned every 2 inch or 4 inch. Also known as press-locked bar grates. Permanent locking is achieved by forcing the deep cross bar into the bearing bar. Both the cross bars and the bearing bars provide walking surfaces in the press-locked design.
Pressure locked bar grate panels provide a smooth clean look ideal for architectural applications such as grilles, dividers and screens. It is used in the same structural applications as its welded steel and rectangular aluminum counterparts. Popular metal materials for press locked gratings are Aluminum alloy, Galvanized Steel and Stainless Steel. Stainless Steel and Aluminum Pressure Locked Gratings are mostly used architectural ceiling panels and decoration. Spacings range from 7/16" to 1-3/16".
Comparing of Pressure Locked Metal Grating with Welded Bar Grating:
Press-locked Steel Bar Grating exhibits the same strength, long life and openness as Welded Steel Grating, although it is not recommended for rolling loads. Instead of welding the joints applied for welded bar grating, however, tremendous hydraulic pressure is used to bond the two close-tolerance slotted bars together in processing of Pressure Locked Gratings.
Rectangular bar grating in either the swage-locked or press-locked styles offers good lateral stiffness. The rectangular bar is also available in a serrated surface for additional safety.
Manufacturing Process: slot (hole), plug the pressure lock, welding, finishing and other processes.
Features: High strength, corrosion resistant, maintenance-free, uniform precision, structural lightweight, beautiful, natural and harmonious, elegant style.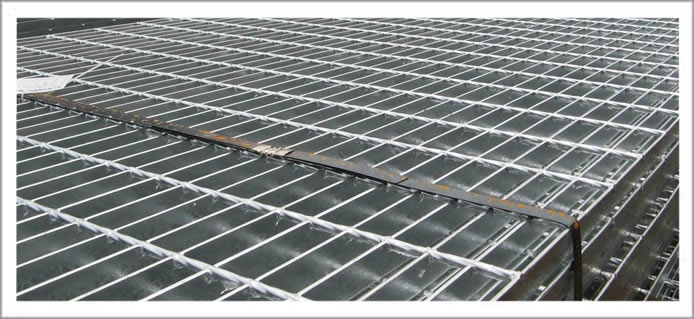 Applications: Press locked bar grating sheets are used in residential and commercial buildings, theaters, subways, suburban areas and other public works, ceiling, indoor and outdoor decoration, platform aisle, ventilation window (Wells), advertising plaque, all kinds of covers (cable trench, draining system) and so on.